Since May, the bidirectional data transfer between RateBoard and the Italian hotel software 5Stelle. So far, only a one-sided exchange was possible. Now the interface is ready and the first hoteliers benefit from it.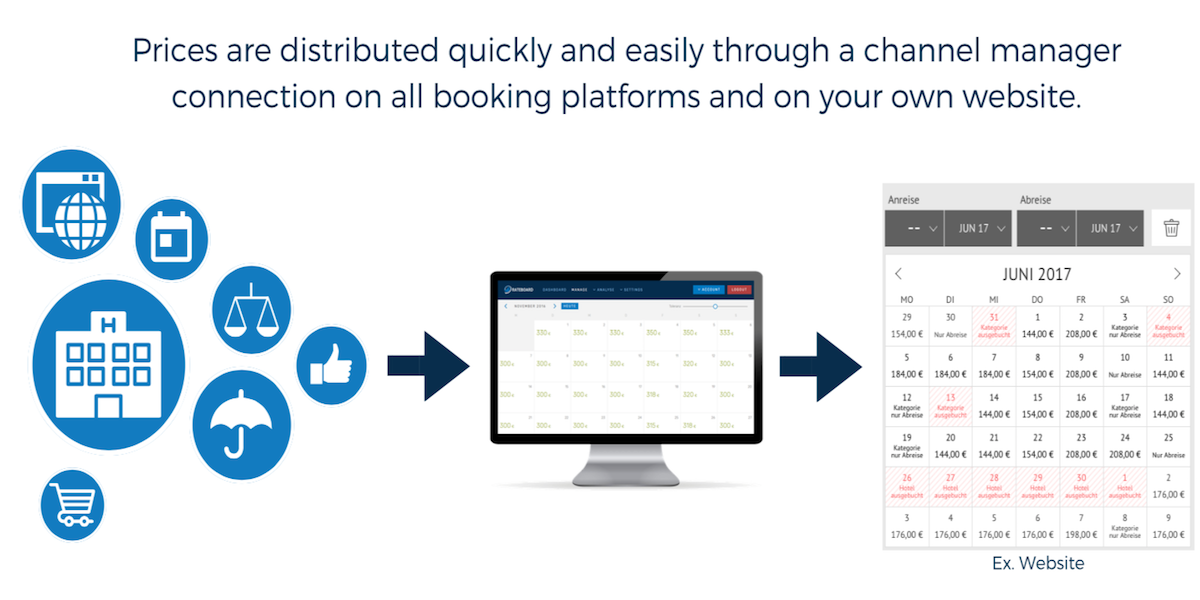 RateBoard processes a lot of data from different sources. As a result, the Revenue Management software can relieve the hotelier of the tiresome and time-consuming processes such as forecasting, pricing and installment maintenance and automate them. Our requirement is to provide hotel businesses with a practical tool for price optimization and sales increase. The processing of the reservations is not personal data. RateBoard complies with the EU General Data Protection Regulation (DSGVO).
What is meant by bidirectional data transfer?
In short, RateBoard gets information about the reservations from the hotel software 5stelle and can thus recognize the utilization as well as the booking dynamics. Together with the market demand and other parameters such as holidays, events and the weather, RateBoard generates the price recommendations in the price calendar. The hotelier can accept these prices or even make changes. With one click, the newly confirmed prices from RateBoard are returned directly to the hotel software and are visible to the reception as usual. Thus, the bidirectional data exchange is completed.
Carina Becker, reception manager at Hotel Limone on Lake Garda, says: "I like the statistic part best. With little effort you get an immediate overview of the situation in the hotel and can react flexibly. RateBoard saves me a lot of time in daily business as a reception manager. Especially for smaller hotel companies like us, the tool is ideal."
You would like to know more about RateBoard and get to know the software? Great, then write us an e-mail to info(at)rateboard.io and we will arrange an online presentation.5stelle* is a NATIVE CLOUD management software for all types of hotels.
5stelle* contains everything you need for the administration and the front office, including: PMS (hotel, spa, meeting rooms, parking), fully integrated Booking Engine, fully integration with OTA (with a two-way Channel Management), CRM and Payment Gateway. Hoteliers can stay connected to the reception wherever they are, even with a tablet or smartphone. Hotel uses a single online sale instrument because planner, OTA, booking engine are managed from the same interface. 5stelle* is an open system linked with the most used hotel software.