Hotel Revenue Forum took place on the 28th February 2019 in the Star Hotels Palace in Milan. In Italy it's one of the most popular events in terms of Revenue Management! There are a lot of different speeches, workshops and networking areas to discuss the latest news of revenue management.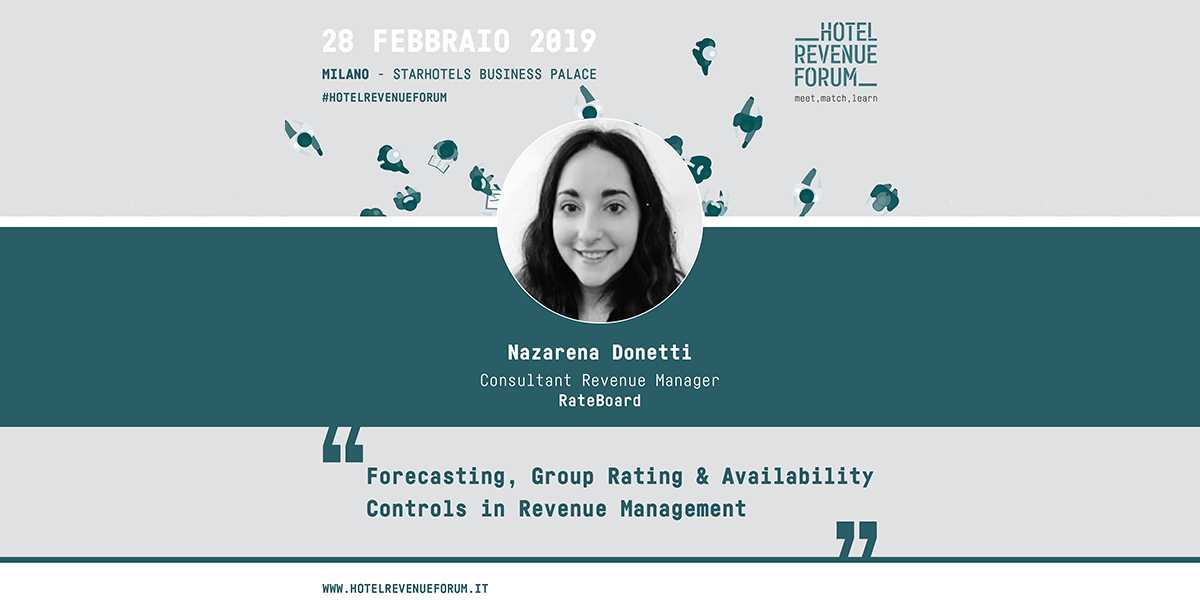 The top seminars, workshops and speeches covered the topics of: big data in tourism, effects of a price strategy, revenue management in wellness and SPA, relations between revenue management and customer experience, visibility with search engines and reviewing platforms, and much more.
Our italian revenue management expert, Nazarena Donetti visited Milan and the hotel revenue forum. She got a lot of interesting information and also had the opportunity to hold her own speech and workshop. In this article we would like to tell you a little bit more about Nazarena's speech.
What exactly is Revenue Management
The goal of revenue management is, to observe market demand and hotel occupancy and maximise profit on base of this data. The success of revenue management depends on detailed forecasting and understanding of the principle. A forecast is a prediction of estimated bookings for a special period. Historical booking data from the own hotel software, holidays and events are only some factors which are used to create a stable forecast. All this data are helpful to decide about room rates, restrictions and even about staff schedule.
Forecasting, Group Rating & Availability Controls
Nazarena combined a theoretical speech with a practical workshop. For example, together with the participants she created some booking curves with excel to find conclusions about demand and bookings in the future. It was easy to understand why excel isn't the perfect tool for revenue management. This is why Revenue Management with Excel & Co. is A NO-GO!
One main concern of the visitors was the topic "how to deal with group requests?"
Group tours can be a high potential segment for the profit of a hotel. But in this target group there are also a few things hoteliers need to take into account. A lot of people think dynamic pricing isn't compatible with group travel because of group discounts and a really early bookings of many month in advance. We can definitely tell you, this isn't true. Nazarana showed the participants how to deal with groups and calculate a minimum price for group requests. (In April you can find the insider tricks of Nazarena on our blog).
Last but not least Nazarena explains how to use the full capacity of high demand in connection with minimum- and maximum length of stay as well as closed arrival and departure days.
Hotel Revenue Forum is a perfect opportunity to meet with revenue experts in the beautiful city of Milan. RateBoard was part of the conference for the second time already and certainly not for the last one.
Follow our blog or sign-up for our monthly newsletter and don't miss the latest revenue management news.