RateBoard is a pioneer for Revenue Management Software in Europe which helps hotels reach their profit goals with more efficient pricing strategies. The company is innovative and always looking for new trends in the hospitality industry. To learn more about the latest developments in the market like self-check-in, guest information systems, orderman, blockchain or shortage of personnel resources, we from RateBoard meet some of our business colleagues and have a chat with them.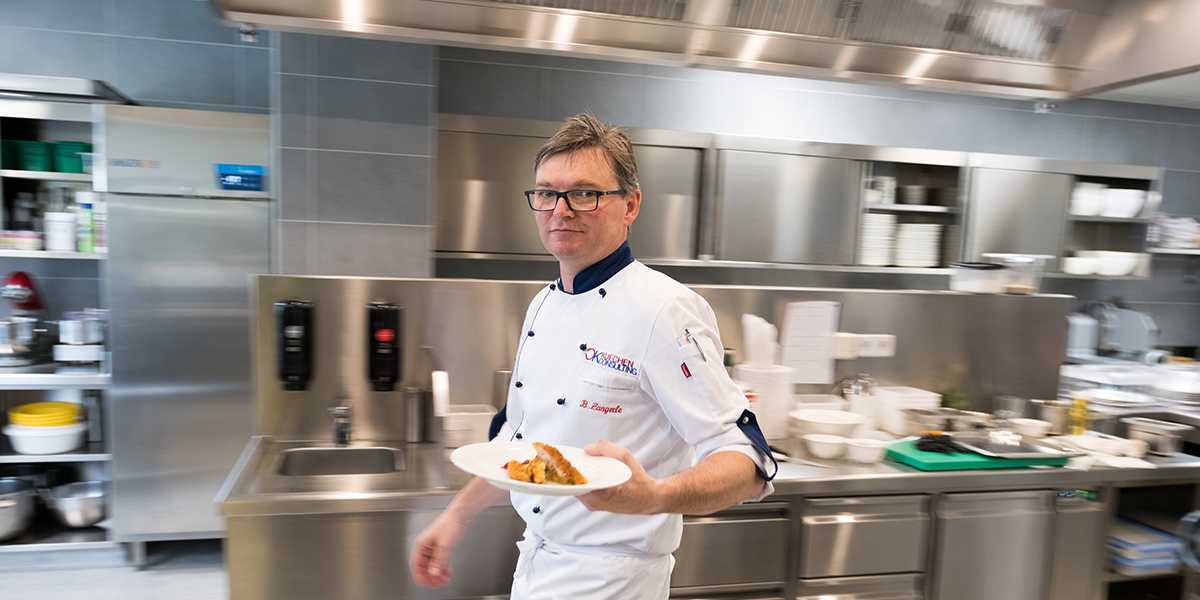 In April 2019 we met Benedikt Zangerle, expert for hotel kitchen and food. Benedikt is a passionate, renowned chef and knows the challenges in the gastronomy industry very well. That is why he founded the company "KUECHEN CONSULTING" and supports hoteliers, chefs and all involved parties in process improvement and introduces new technologies to make kitchens work more efficiently.
1. Dear Benedikt, we would like to know more about your interesting life and work. What role did you play in the hospitality industry so far and why did you become an independent kitchen consultant?
I am a trained chef and have been cooking in hotels and restaurants for more than 30 years. To me, it always has been an important concern to avoid unnecessary work steps and optimize processes. My years in Switzerland had a special influence on me. Already in the 80s and 90s, it was normal to question processes critically and to improve them continuously. The launch of "Kuechen Consulting" was rather a coincidence. Today it is very important to me, to make the hard working days of chefs more bearable and efficient, save valuable food from unnecessary waste and to guarantee high quality food for the guests.
2. At the moment everybody is speaking about digitization. Is there any point in the kitchen where digitization plays an important role?
A revolution is currently taking place - digitization will fundamentally change the kitchen itself as well as the workprocesses. The keyword "networked kitchen" will certainly be used more and more frequently in the future. Already now there are a lot of digital systems, for example for temperatures recording or hygiene tracking and quality control. In the future, the devices will communicate with each other and do some simple tasks independently. Also, recipes and production steps will be digital. Maintenance and bug-fixes can already be made remotely by the manufacturer.
3. What are the current challenges in the kitchen and food sector in your opinion?
The biggest challenge at the moment is, and will remain, the shortage of employees! Many restaurants are forced to use expensive convenience products from the industry, as there is a huge time pressure caused by the lack of staff. Therefore, systematization and optimization are playing a major role in the gastronomical industry. But new, modern devices are useless if nobody knows how to use them correctly. Regular training and coaching will become normal in the hospitality industry, as already in many other sectors.
4. You work a lot with waste prevention and sustainability. How can a hotelier profit from optimization of these factors?
Currently, we are living in a throwaway society, not to mention the problem of plastic waste. If you imagine how much garbage you are producing in your private household, it's easy to envision the huge amount of waste in a commercial hospitality business. With simple actions, already a large part of the daily garbage can be avoided and thousands of euros can be saved per year. Supported programs such as "Küchenprofit" from the platform United Against Waste helps companies in these changes. Another positive side effect is the sensitization of employees to the value of food.
5. What was one of your most exciting projects?
A ****hotel with 240 beds in Tyrol. Together with the kitchen team and the hotel management, we achieved the reduction of food waste by half and the cost of goods by 20%. This great result was only made by internal process improvements and other actions like the reorganization of the buffet. In addition, the process optimization facilitated a five-day working week instead of six days with the same number of employees, this enabled the hotel to save more than 1000 overtime hours per year. The improved workflows have reduced operating costs as well as workload and increased employee satisfaction.
6. Please give us some insights about your work with the hotels
I am a chef myself and I usually know where the real problems are. I critically scrutinize everything without making prejudices about anyone or anything. On one hand, a consultant should point out weaknesses, at the same time he must offer constructive and individual solutions. It is very important to me, to visit the hotel regularly again, also after the changes are implemented. I think my work is only successful when the defined goals are achieved together with the team.
7. What do you think the gastronomy or a hotel kitchen will look like in 2030?
Hard question… Without an extensive standardization, it will certainly not work. There will be even more digital solutions which will replace a lot of employees. I think that the usage of convenience products will increase strongly. In this case, it's important to meet the customer's requirement, which means regional and organic products.
Benedikt Zangerle is a partner of the Austrian Hotel Association, this is why you can meet him live at the ÖHV-profit.days 2019. In his workshops, Mr. Zangerle will show you how you can save valuable time, for example with the production of your own high-quality convenience products.
Of course, RateBoard will also be present at the ÖHV-profit.days 2019 in Tyrol and Salzburg. More information about this event and other workshops can be found here.