Glamping, camping and outdoor hospitality are the fastest growing market! Although there was already a strong increase in demand for the flexible type of holiday in the previous years, the pandemic boosted camping and outdoor vacations even more. The Italian leader in open-air tourism, "Human Company", is a pioneer for innovative and sustainable outdoor concepts. What does the strategy for success look like, and which impact did the pandemic have on the sector? We talked to Eugenio Cignolini from Human Company.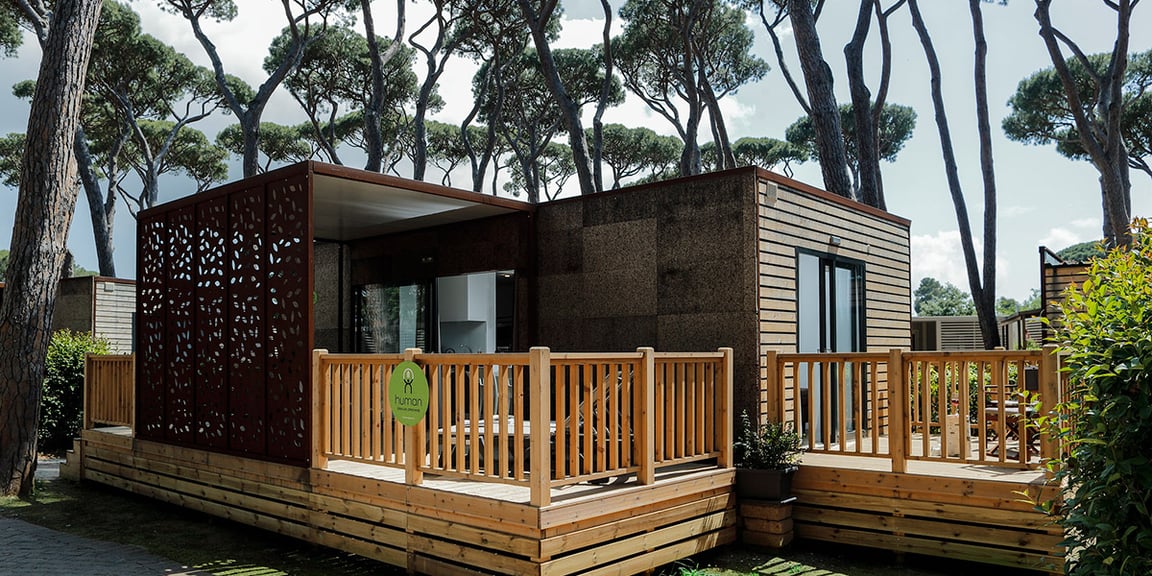 The advantages of freedom, privacy and nature paired with the conveniences of a hotel: This currently describes the desires of many travellers. Not only has the term "Glamping" become more and more popular, outdoor vacations and open-air holidays are definitely the current trend. The Italian market leader "Human Company" instantly recognized this trend and developed an innovative concept for the target group. We from RateBoard wanted to know the secret behind the successful strategy and spoke to Eugenio Cignolini, the Director of Revenue at the Human Company.
The Human Company
The Human Company is specialized in accommodation and gastronomy and operates 9 outdoor facilities and 4 hotels. With this huge portfolio, they are the Italian market leader for open-air tourism. In 2017, the brand was completely restructured and adapted to the current needs and design aspects of the target group. The group's philosophy focuses on creating real experiences for its guests instead of just offering "a simple place to sleep". The sustainable concept is oriented towards the individual needs of the guests and is based on excellent services, well-thought-out structures and a modern design. Internally, there is also a great emphasis on digitalization in the area of technology. In order to be able to react flexibly to the fast changing market, the Italian market leader in the outdoor hospitality sector now also uses RateBoard for its Revenue Management.
Human Company stands for the latest trends and also future developments. Why do you think demand in the outdoor sector will continue to grow also in the upcoming years?
The constant growth trend we expect is simply explained and based on the advantages of open-air tourism: a holiday in intimate contact with nature, away from stress, pollution and the chaos of everyday life. Outdoor tourists benefit from all these factors without losing the comforts of home. Sustainability also plays a major role and is becoming increasingly important for guests. Economic, environmental and social sustainability are the main reasons that increasingly drive guests to choose outdoor tourism as an alternative. From an environmental standpoint, outdoor hospitality is synonymous with sustainable vacations that ensure low environmental impact, because overbuilding in the areas hosting the structures is avoided.
Which trends, especially in the outdoor sector, do you expect in the near future?
Every year, Human Company compiles and publishes a study called " Open mind Academy" which shows the current trends in Italy's Outdoor sector. The observatory is co-authored by our Revenue and Marketing teams, as well as by our external partners and outdoor opinion Leaders. Thanks to the large amount of data we collect, we were able to determine in the 2021 edition that our segment is expected to generate approximately 45 - 49 million overnight stays. According to the report, 55% of these stays are supposed to come from the domestic market. I personally believe that it is more important than ever before to analyse data smartly. All those hotels and tourism businesses that identify short-term trends immediately will have a lot of opportunities in the summer of 2021.
How did you experience the summer of 2020 at Human Company?
Last year we worked with a very analytical approach. In detail, this means we analysed historical trends, segmented by nationality and their typical travel dates. We then focused on those markets that have historical relevance to our properties, where we could identify increased online searches and of course where we thought would actually travel. In our sector, 2020 was the first year for us in which we were confronted with an enormous amount of last-minute bookings, or rather last-second bookings. Within a very short period of time, we received a landslide of reservations with an extremely short lead time. In addition, I would say that 2020 was the first year in which the topic of Big Data had a real and tangible meaning for us. For the first time, we had to gather information from different and uncommon sources in order to make decisions.
You have implemented a so-called Covid-Safety-Index. Please tell us more about it.
One of our partners, The Data Appeal Company, has developed a methodology to measure sentiment, perceptions and expectations regarding the value and trust in the current Covid-19 security and safety arrangements. The index collects all online content shared by users regarding the coronavirus and identifies the most important factors related to the crisis. Afterwards, a score is assigned for evaluation. We really liked the idea as it actually helped us understand (and still does) how our guests think and perceive us in relation to Covid-19 security and safety precautions.
How do you manage to plan for these unpredictable times at the moment?
We are sticking to our original plan, which is to push our early bird model and identify any trends immediately. Above all, we continuously and intensively monitor our pickup, the different markets and all activities on our website. Of course, we also keep an eye on our competitors during this process. In any case, we know that the guests will come. The smartest ones have already booked and taken advantage of our early bird promotion. Last-minute bookers will take whatever rate they can find.
Why do you think Dynamic Pricing is important also for the outdoor sector, like for Camping and Glamping?
In my opinion, any profitable hospitality business needs to be managed with dynamic pricing. A few years ago, Human Company was a pioneer in introducing dynamic pricing in this sector. This year, we have also started to use flexible prices for some pitches, too. Dynamic pricing gives you a better understanding of trends and allows you to react to them faster and more individually.
What were the reasons for your decision to adapt RateBoard as Revenue Management Software for your Sites?
Like you do these days, we searched online for the ideal revenue management tool for our business model. In my opinion, RateBoard fits our needs perfectly: The dashboard includes and monitors all important KPIs; it provides price suggestions for each room type; it helps monitor our competitive set; it shows our pickup by different segments and markets, and it compares OTB to the same point in time of previous years. Even though we started our cooperation only recently, I can say that RateBoard is the right tool for the modern revenue manager.
Final questions: Why should I spend my holiday with the human company?
For the simple reason that we have everything you need for a pleasant stay :-). We have great facilities, comfortable accommodation and large areas of greenery. Our properties are the perfect option for a great stay in a safe, sustainable and comfortable environment.