As always, autumn is event time in the hotel industry and tourism sector. RateBoard is also on the road, to inform you about all new developments in our Revenue Management Software. To make sure, you don't miss us, we would like to give you a brief overview of our upcoming events.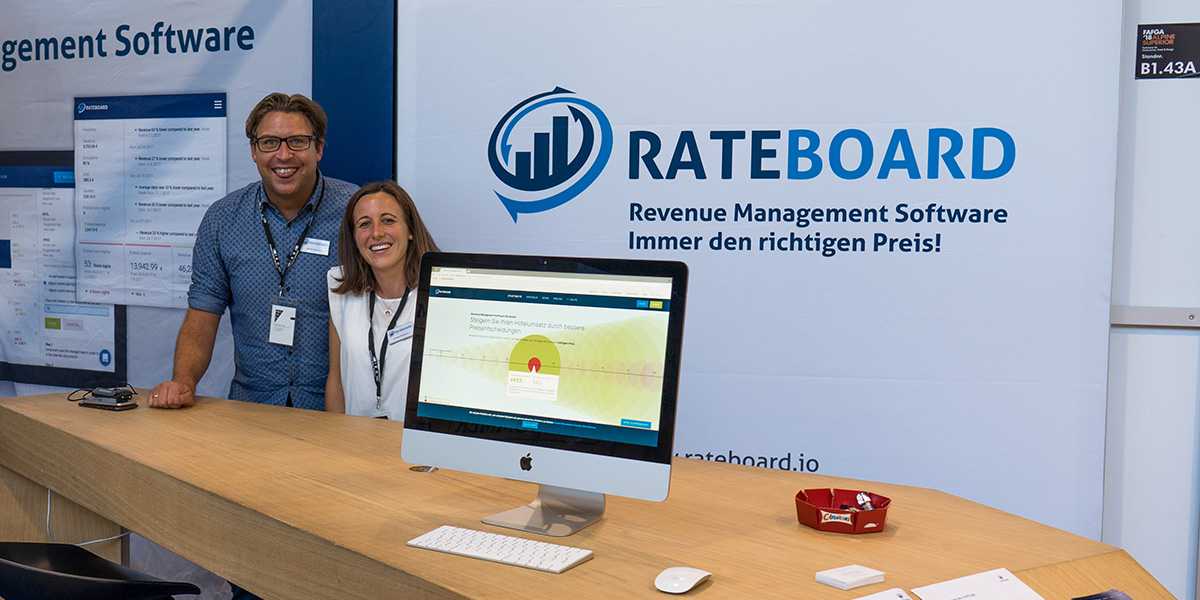 In September, our Sales Manager Ferdinand has already been in Switzerland - at the HospitalityCamp in Lucerne. In addition to very interesting inputs about the topics metasearch, conversion optimization in the hotel industry and the importance of online travel agencies, revenue management was also discussed intensively. Find out more about the Hospitality Camp 2019 here.
FAFGA 2019' Alpine Superior
From 16.09. to 19.09.2019 we will be present at the FAFGA' Alpine Superior in Innsbruck. The FAFGA is THE Tyrolean trade fair for gastronomy, hotel industry and design. With our Revenue Management Software RateBoard for the hotel sector, of course, we should not be missed. You will find us in hall B.1, stand 43a.
ÖHV profit.days Salzburg
The motto of the profit days 2019 of the Austrian hotelier association is "Save costs sustainably". Already in June, we were allowed to visit the ÖHV profit.days in Tyrol, in the Aqua Dome in Längenfeld. The event ÖHV profit.days ist the meeting place, exclusively for members of the Austrian hotelier association. The participants can expect top-class speakers, such as Benedikt Zangerle, who will talk about cost optimization in the hotel kitchen (we already had a chat with Mr. Zangerle → click here for the interview). On 18.09.2019 the ÖHV profit.days will take place at the Edelweiss Mountain Resort in Salzburg. We are looking forward to exciting discussions with all participants.
TTG
We are in Italy, from 09.10. to 11.10.2019, at the TTG fair in Rimini. The popular Italian tourism trade fair TTG takes place for the 56th time. It attracts participants from all over the world to visit the exhibition halls in Rimini. Together with our partner Zucchetti we will be on site. You will find us in hall A1, stand 075-086.
Brennpunkt eTourism
On 10.10.2019 the University of Applied Sciences Salzburg invites tourism experts to the annual eTourism Congress. The whole day is completely dedicated to the topic digitization in tourism. Internationally renowned lecturers and experts will talk about the hotel industry of the future. As a revenue management software provider, we from RateBoard will also join the event.
HOGAST Symposium
On 15.10. and 16.10.2019 the Austrian wholesale cooperative HOGAST will host the famous branch meeting "HOGAST Symposium" for the 25th time. Of course, RateBoard will also take place at the anniversary. Together with our partner Smart Host we will inform you about all our development concerning the Revenue Management Software RateBoard. Come and visit us!
RED Camp Biberwier
The weekend from 18.10. to 20.10.2019 is dedicated to the topics Revenue Management, Ecommerce, and Distribution, at the RED Camp in Biberwier. The entire Hotel My Tirol will be reserved for the participants of the innovative bar camp. Intense discussions about the hotel trends of the future will be guaranteed. Our Sales Manager Ferdinand is looking forward to meeting great people and joining exciting sessions.
HSMA Hotelcamp
From 24.10. to 26.10.2019 the 11th HSMA Barcamp will take place at the Mercure Tagungs- und Landhotel in Krefeld. As a member of the Hospitality Marketing and Sales Association (HSMA) we are looking forward to being part of this hotel camp again in October. In 2018, topics such as price pressure, digitization and online marketing has been discussed (find out more here). We are looking forward to great topics on the this year's event.
Alles für den GAST Salzburg
From 09.11. until 13.11.2019 at the congress center Salzburg it's all about hotels and hospitality industry. Get inspired by the more than 700 national and international exhibitors. Don't forget to visit our stand. You will find us in hall 4, stand 200. Or simply arrange your personal appointment now, so we have plenty of time for you, to present the RateBoard Revenue Management Software in detail and answer all of your questions.
We are looking forward to a personal meeting with all our existing customers and getting to know many new faces!
We not visiting your location in autumn? No problem, just register here for your free 20-minute online presentation.