Get to know the RateBoard update from march 2019. The new features help you achieve your goals, compare relevant metrics even better, and of course, save a lot of time. All hoteliers who want even more vision, take care!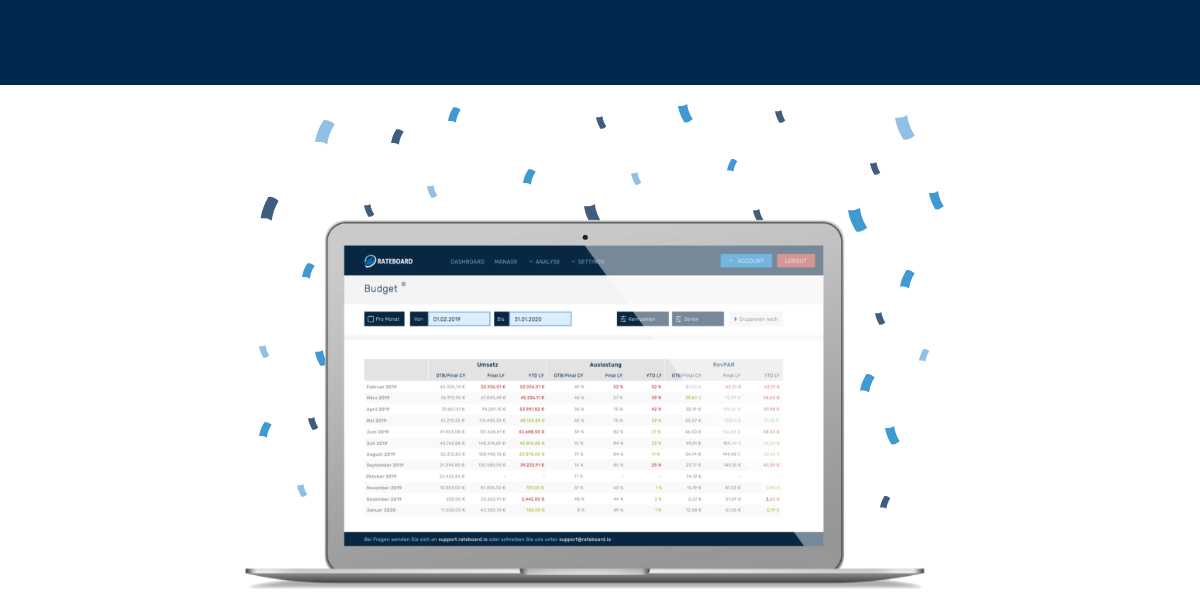 The existing and popular analysis tool "Budget" has been completely redesigned and equipped with many new features. RateBoard responds to the increasing demand for individual and detailed analysis of all available data from the hotel software in order to best support the hotel's pricing strategy.
These are the innovations
In order to be able to analyze the relevant data for your hotel in even greater detail and thus to be able to better track your pricing strategy, we have expanded the range of analyzes. The hotel key figures revenue, occupancy, ADR, RevPar, sold rooms and available rooms can now no longer only be viewed on a monthly basis, but also on a daily or weekly basis. (More details on the key figures in Revenue Management can be found here.)
From now on, it will be possible to retrospectively compare different periods of time, up to three years, in order to improve the validity of these key figures. Both the daytime comparisons and the pickup of the last 1, 3 or 7 days for the respective months are displayed.
The surface, for the deposit of one's own goals, will become even more individual in the future. The self-defined goals can be selected as well as the key figures in the comparison view. So, you never lose sight of your strategic roadmap and have a valuable insight into the booking and sales development.
It gets better! You always wanted to see at a glance the profitability of your sales channels and the revenue split into the individual guest segments? That's exactly what the new RateBoard version provides. Whether OTAs such as booking.com or your own website, it can be traced exactly how much revenue was generated by the respective channel. This way, strong channels can be easily identified and strengthened accordingly.
For the hotelier who manages the price strategy of several houses on RateBoard scores the new multi-property view. This is a comparison of all desired key figures and characteristics of each individual company. Thus, it can be determined which hotel performs best and where there is need for action.
All in all, the new analytics feature can do a lot, but it does not overwhelm the user. With simple clicks, only what the hotelier really wants to know can be displayed. Hotel management has never been easier!
You want to convince yourself? Contact us for an online presentation on RateBoard